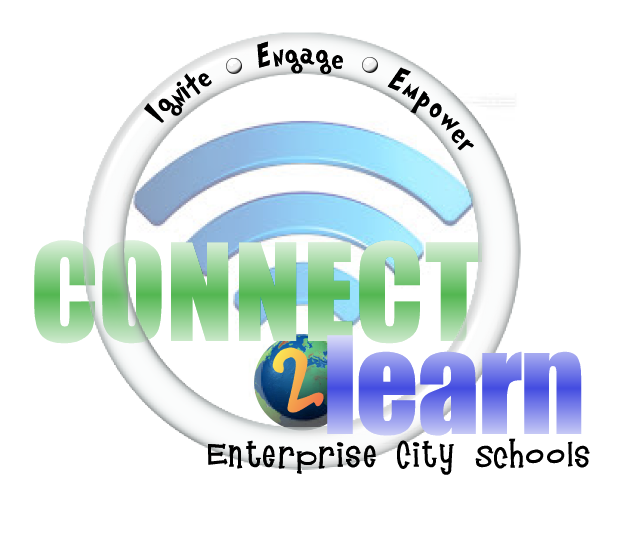 Enterprise City Schools is excited about a new learning initiative called Connect 2 Learn which will allow students to bring their devices to school. It is not necessary for parents to rush out and purchase devices. Click here for more information.
Welcome to the Enterprise City School System!
The Enterprise, Alabama City School System is comprised of one Early Education Center (Kindergarten), 6 elementary schools (Grades 1-6), 3 junior highs, and one high school. Student enrollment in the system exceeds 6200. The system employs more than 450 professionals and more than 250 support staff. The school system was the first in Alabama to be fully accredited by the State Department of Education and Southern Association of Colleges and Schools. Students in the system consistently score above state and national averages on nationally-normed tests. Approximately 82% of EHS graduates go directly to 2-year or 4-year colleges while approximately 14% begin full-time service in the military. The 2012 graduating class accepted more than $7.4 million in scholarships.
Our vision is to prepare student graduates to be successful in realizing their personal, educational,
and professional ambitions.
Click below to view our Annual Report for 2012-13



The Jason Foundation, Inc. (JFI) is a nationally recognized provider of educational curriculums and training programs for students, educators/youth workers and parents. JFI's programs build an awareness of the national health problem of youth suicide, educate participants in recognizing the "warning signs or signs of concern", provide information on identifying at-risk behavior and elevated risk groups, and direct participants to local resources to deal with possible suicidal ideation. JFI's student curriculums are presented in the "third-person" perspective – how to help a friend. For more information, click here.